The Best HVAC Company in Troy, Missouri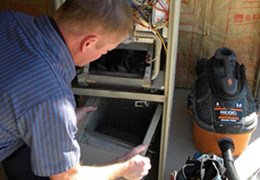 Are you looking for a professional HVAC company to troubleshoot, diagnose, and repair your current HVAC system? Are you looking for a company to replace your furnace or air conditioning unit? Are you looking for an experienced HVAC contractor offering quality services, yet affordable? ABLE Heat & Cool provides expert heating, ventilation, and air conditioning solutions for residential homes and light commercial establishments throughout Troy, Missouri and the surrounding areas. Your home deserves nothing but the very best, so put your HVAC needs in ABLE hands!
At ABLE Heat & Cool, we are a family owned HVAC company that provides a comprehensive range of HVAC services, including troubleshooting, diagnosis, repair, and installation as well as maintenance on all brands of heating and cooling equipment. Call us now at 636-528-4794 to schedule a service appointment or to learn more about how one of the best HVAC contractors in Troy, Missouri can deliver affordable, quality services.   
What Sets Our "HVAC" Company Apart
We are committed to providing quality work and personalized service at affordable prices, and this commitment is one of the primary reasons we have become the go-to heating and cooling company for so many people throughout the Troy and Lincoln County area:
Quality Work: No matter what kind of HVAC job we are doing – whether it is installing, troubleshooting, diagnosing, repairing, or maintaining your HVAC equipment – you can trust ABLE Heat & Cool to deliver the best heating and cooling service for you and your family, every single time.
Affordable Pricing: As a locally owned HVAC company, our commitment is to provide quality, trustworthy repair services at a fair price to every customer, every time we are called in to do a job.
Personalized Service: As a family-operated HVAC company based out of Troy, MO, we treat each client and each service call as an opportunity to continually earn your business by delivering prompt and reliable services.
What Does Our HVAC Company Offer for Troy, MO Residents?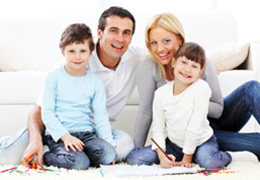 We service and repair ALL brands and ALL kinds of heating and cooling equipment: This includes air conditioner units, gas furnaces, electric air handlers, heat pumps, humidifiers, and indoor air quality purification units.
We troubleshoot and diagnose: Knowing the root cause of the problem allows us to come up with the correct solution the first time.
We repair: We work efficiently on your heating or air conditioning unit to fix the problem right away.   We work smarter, not longer.
We install: Gauging the right load capacity for your home and selecting the best unit for heating or cooling your home requires experience and expertise, and we have plenty of that.
We maintain: Preventative HVAC maintenance is a good investment, and a smart move on your part as it can help prolong the life of your equipment and prevent breakdowns. With our experience and affordable maintenance package options, we are the right HVAC company choice for keeping your furnace and air conditioner operating as designed.
Learn More About What Our HVAC Company Can Do for You
In Troy, Missouri and the surrounding Lincoln County area, call us now at 636-528-4794 to schedule an appointment with our HVAC company and to learn more about how knowledgeable HVAC contractors like ABLE Heat & Cool, can help by providing complete cost-effective solutions for your HVAC system.
MISSION STATEMENT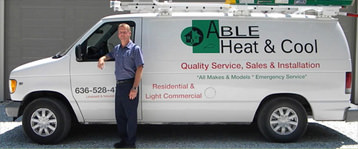 ABLE Heat & Cool, LLC will provide quality service and cost-effective solutions. Being family owned and operated, we understand our customers are just like us… when we call for services, we expect prompt, professional, & reliable service at a fair price. People that need HVAC services can depend on ABLE providing over 30 years of experience in the HVAC repair and service industry to troubleshoot, diagnose, and fix it right the first time!
SERVICE * EXPERIENCE * VALUE
---
Repair, Service, & Maintenance


on ALL BRANDS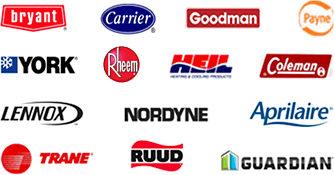 ---