The Only Heating and Cooling Company You Will Ever Need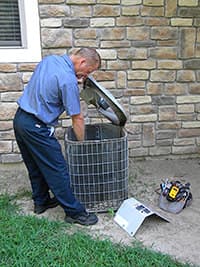 At ABLE Heat & Cool, we are a family-owned and family-operated heating and cooling company, serving Troy, MO and the surrounding Lincoln County community. Our track record within the HVAC industry includes servicing and repairing residential heating and cooling equipment, as well as light commercial air handling equipment.
Our humble beginnings started in 1982 when Roy, one of our founders, started work as a boiler service technician. Roy's continued training, skill, and experience within the HVAC industry, has opened opportunities for him to use his expertise in a number of supervisory and technical positions until starting his own heating and cooling company.  He uses these skills and experience acquired over the last 30+ years, to quickly determine the problem on residential or light commercial equipment and providing reliable repair services.
For more information on the various HVAC services that we offer and to find out why we are considered one of the best HVAC contractors in the business, please call us at 636-528-4794.
Why Hire Us as Your Trusted "Heating and Cooling" Company
At the end of a long day, there is nothing better than coming home and relaxing. Nothing can ruin this quicker than a broken air conditioner on a sweltering summer day, or a furnace that will not turn on during a cold winter night.
That said, it is imperative to have a reliable, heating and cooling company to make sure that your HVAC system is working at peak performance providing comfort any time of the year. ABLE Heat & Cool is an experienced heating and cooling company that knows heating and air conditioning and can help with everything from regular maintenance to emergency repairs.
Here are just some of the reasons why you should choose ABLE Heat & Cool to be your go-to HVAC company: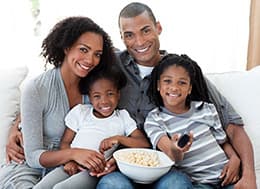 Family-Operated: As a family owned and operated business, having been in the HVAC industry for more than 30 years, we have a proven track record serving Troy and all the communities throughout Lincoln County.
Cost-Effective: Your home is your castle, and we make sure that it provides you the comfort you need by giving you quality, reliable service at an affordable price.
Efficient: Before we do any actual work, we perform proper diagnostics to pin-point the exact problem and then implement the best, cost-effective solutions. We will troubleshoot, diagnose, and fix it right the first time.
Professional: Our HVAC Company is committed to every customer. Every time we are called on to do a job, we deliver prompt, reliable, and professional service.
Complete HVAC Company Services
Our heating and cooling company's first priority has always been to provide quality service that is affordable for our customers in Troy, MO and other areas throughout Lincoln County. We provide a full range of services to address all of your HVAC needs, including:
Sales and Installation: Need help deciding what HVAC equipment to install in your home? We can help you select the best system and provide a free estimate on new equipment. Call our heating and cooling company, and we will assess your existing HVAC equipment, your duct system, and the sq. ft. of your home to help you choose the best HVAC system to meet your needs and your budget.
Troubleshooting and Diagnosis: Wondering why you keep getting high electric bills? Or need help diagnosing that strange noise coming from your furnace or air conditioner? Trusting an expert heating and cooling company to diagnose and identify your HVAC problems is the first step.  Ignoring problems or attempting to troubleshoot the equipment yourself can not only be frustrating, but may also cause additional issues and lead to costlier repairs.
Repair: Is your furnace not producing enough heat? Or is your air conditioner not even turning on? Our heating and cooling company does efficient, quality, repairs at a price that will not break the bank.
Inspection and Maintenance: Wondering how to save more on your utility bills? Preventative HVAC maintenance helps prolong the life of your system and increases efficiency, which equals more money saved.
Hire Our Heating and Cooling Company Today for All of Your HVAC Needs!
If you need expert HVAC services from a company you can trust in Troy or Lincoln County, Missouri, call our heating and cooling company at 636-528-4794.  HVAC contractors like ABLE Heat & Cool, can help with all of your heating and cooling needs.
MISSION STATEMENT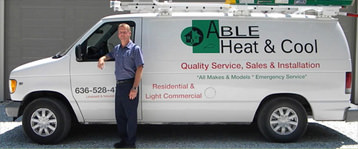 ABLE Heat & Cool, LLC will provide quality service and cost-effective solutions. Being family owned and operated, we understand our customers are just like us… when we call for services, we expect prompt, professional, & reliable service at a fair price. People that need HVAC services can depend on ABLE providing over 30 years of experience in the HVAC repair and service industry to troubleshoot, diagnose, and fix it right the first time!
SERVICE * EXPERIENCE * VALUE
---
Repair, Service, & Maintenance


on ALL BRANDS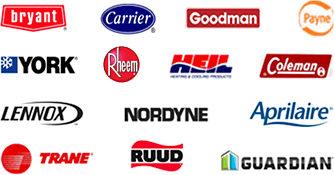 ---