Hire One of the Best HVAC Contractors in Troy, Missouri
ABLE Heat & Cool provides high quality residential and light commercial heating and cooling services throughout Troy, Missouri, as well the surrounding areas in Lincoln County. Our HVAC technicians are well trained and up-to-date with the latest advancements in the HVAC industry, meaning we can provide the best service for all of your needs.
To learn more about the services we offer, or to schedule a service call with one of our HVAC contractors, you can reach us using the form or contact information below:
Able Heat & Cool, LLC
696 S. Lincoln Dr.
Troy, MO 63379
Office: 636-528-4794
Office Hours: Monday-Friday 8am-5pm
Fax: 636-528-1414
Emergency Service: 636-528-4794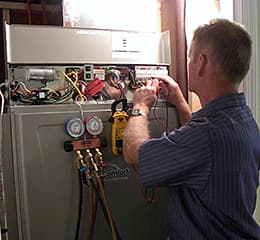 Need A Trustworthy HVAC Contractor Right Away?
Things happen and for some inexplicable reason… like your furnace decides to break down in the middle of the night or your air conditioning unit simply stops putting out cold air at the start of a long, hot weekend. When things like this happen, call and hire one of the best HVAC contractors in Troy, Missouri to do the job.
When heating and cooling equipment fail, it usually happens at the most inconvenient time. That's why when you have an emergency, we will not keep you waiting. We offer affordable emergency services – so if your HVAC equipment fails any time during the evening, weekend, or even over the holidays, you will get the help you need! With emergency service and repairs, one of the most trusted HVAC contractors will ensure your unit is up and running in no time.
With this in mind, we make sure to keep universal parts on hand so we can fix your heating or cooling system problem right on the first call! We offer service, repair, and replacement for all types of HVAC equipment including: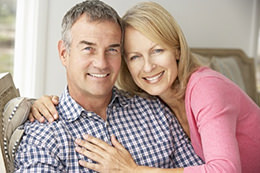 air conditioners
furnaces
electric air handlers
heat pumps
humidifiers
indoor air quality purification units
How to Choose One of the Best HVAC Contractors
When choosing the best heating and cooling company, it is important to keep in mind that, not all HVAC contractors are the same. For example, you can avoid fly-by-night operators by asking how much experience does the HVAC company have in the heating and cooling industry. Here at ABLE Heat & Cool, our track record pretty much speaks for itself. Having more than 30 years of experience in the HVAC industry, we have provided service, repair, and installation for hundreds of customers in Troy, Missouri and throughout Lincoln County.
Additionally, it is important to find an HVAC contractor that has your best interests in mind. Do not choose an HVAC contractor who does not clearly explain what your options are. Our HVAC technicians will make it a point to explain whether you need a simple repair or why a full replacement may need to be considered and will never use sales tactics or pressure. We will make recommendations and give the best cost-effective options for your consideration to get your heating and cooling system running smoothly again.
Looking for Professional HVAC Contractors and Services
Whether you are in need of emergency HVAC service or you need a company that you can trust for regular heating and cooling system maintenance, call us now at 636-528-4794 to learn how we can handle all of your HVAC needs!
MISSION STATEMENT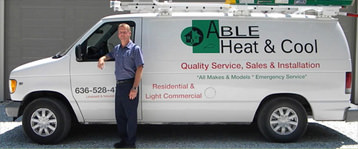 ABLE Heat & Cool, LLC will provide quality service and cost-effective solutions. Being family owned and operated, we understand our customers are just like us… when we call for services, we expect prompt, professional, & reliable service at a fair price. People that need HVAC services can depend on ABLE providing over 30 years of experience in the HVAC repair and service industry to troubleshoot, diagnose, and fix it right the first time!
SERVICE * EXPERIENCE * VALUE
---
Repair, Service, & Maintenance


on ALL BRANDS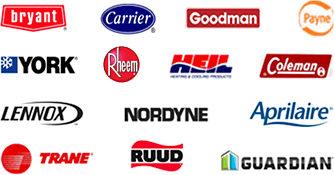 ---