The Importance of Air Conditioner Maintenance & Furnace Maintenance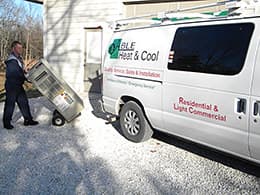 One of the things most often neglected is the regular maintenance of a heating and cooling system. Regular air conditioner maintenance and furnace maintenance – whether professional or do-it-yourself – is very important. After all, an HVAC system is one of the most expensive appliances in your home that requires routine and regularly scheduled HVAC maintenance to ensure the efficiency, reliability, and longevity of the heat pump, air conditioner, or furnace.
For more information on air conditioner maintenance and furnace maintenance, contact ABLE Heat & Cool, one of the most maintenance minded HVAC contractors at 636-528-4794.
Benefits of Air Conditioner Maintenance and Furnace Maintenance
While there ARE some things you can do to maintain your heating and cooling equipment, bear in mind that your HVAC system has many parts, components, and controls. That is why it is highly recommended to have air conditioner and furnace maintenance scheduled before each season by a qualified HVAC contractor to ensure that your air conditioner, heat pump, and furnace are operating at their peak performance.
Here are some of the benefits that come from regular air conditioner maintenance and furnace maintenance:
It extends the life of your HVAC equipment
It reduces the incidence of equipment breakdown
It prevents incurring expensive HVAC repair costs
It increases your HVAC equipment's efficiency
It reduces energy consumption and utility costs
DIY Furnace & Air Conditioner Maintenance Checklist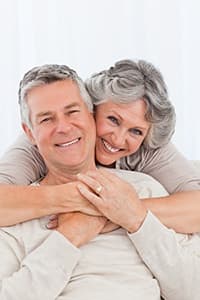 Filters: An important part of your routine furnace and air conditioner maintenance should be to check, clean (if applicable), and replace the filter/s regularly as needed. A clogged and dirty air filter prevents normal airflow and greatly reduces the efficiency of the air conditioner. Less efficiency equates into costing more to operate; higher utility bill. The air that passes through that dirty filter will then carry dirt and collect into your A/C's evaporator coil, thereby lessening its capacity to absorb heat and over time creates stress on components and gives way for premature component failure.
Obstructions: For outside heat pump and air conditioner maintenance, keep any form of vegetation or debris at least 2 feet away from your air conditioner or heat pump units. Make sure there are no obstructions for them to properly function, this means keeping an eye out for small things like falling leaves, pollens, and twigs, as well as trimming your adjacent foliage. Pay special attention to dryer vents, blowing grass from trimmers & lawn mowers, and any other thing that could be a potential source of debris for your A/C's fan grill and condenser coil.
Registers: Make sure that all the air grills are open and no obstructions are blocking proper air flow.  Clear any objects covering the air registers.  Air flow interference can trigger a number of adverse performance issues that will result in a call to a professional HVAC technician.
Dust: Make sure that the air filter for your furnace is clean as well, and while the furnace is off, regularly vacuum the dust that has accumulated in and around the furnace.
Is DIY Air Conditioner Maintenance & Furnace Maintenance Enough?
Knowing furnace and air conditioner maintenance is important and doing small, general maintenance can make a huge difference.  Keeping up with routine maintenance is great, but it may be tempting to put off having a system checkup by a professional. The HVAC industry has continued to keep up with technology and many parts, controls, and components are electronic and computerized so it's advised to have regular, scheduled maintenance performed by a professional HVAC company as well, especially before those summer or winter temperatures challenge the operation and performance of the system.
For comprehensive air conditioner maintenance and furnace maintenance and to learn more about the importance of HVAC maintenance, contact us about our HVAC maintenance plans by calling 636-528-4794.
MISSION STATEMENT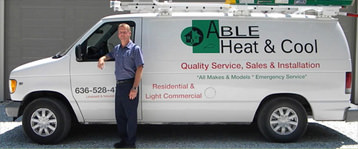 ABLE Heat & Cool, LLC will provide quality service and cost-effective solutions. Being family owned and operated, we understand our customers are just like us… when we call for services, we expect prompt, professional, & reliable service at a fair price. People that need HVAC services can depend on ABLE providing over 30 years of experience in the HVAC repair and service industry to troubleshoot, diagnose, and fix it right the first time!
SERVICE * EXPERIENCE * VALUE
---
Repair, Service, & Maintenance


on ALL BRANDS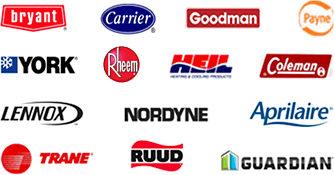 ---