The Best Air Conditioner Repair and Furnace Repair in Troy, MO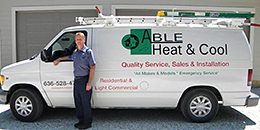 At ABLE Heat & Cool, we pride ourselves on the fact that we provide quality air conditioner repair and furnace repair services without burning a hole in our clients' pockets. We offer affordable repair and service on ALL brands of air conditioners and furnaces. Book an appointment with one of the most respected HVAC contractors in Troy and the surrounding Lincoln County area today, by calling 636-528-4794 or contact us online to learn more.
The Truth About Air Conditioner and Furnace Repairs
Regular, routine HVAC Maintenance is the best choice for the upkeep of your HVAC system. It keeps your system running smoothly, maximizing its effectiveness, as well as prolonging its lifespan while keeping costly and inconvenient emergency repairs at bay. When it comes to equipment component failure, Air conditioner and furnace repair is normally the most cost-effective solution.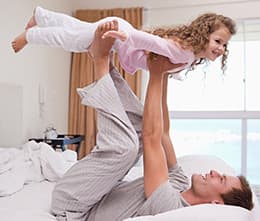 Having your air conditioner repair and furnace repair performed by an expert is always the best course of action, as it is almost always less expensive than having to buy an entirely new system. Although you might be tempted to do the repair job on your own, it is highly recommended that complex repairs be carried out by a qualified HVAC company. Consider this: if the reason why your furnace, heat pump, or air conditioning unit is not working is due to component failure, the equipment can then be easily repaired as long as the parts are accessible. However, improper repair by a do-it-yourselfer can often lead to more costly fixes in the future or sometimes even a full replacement.
Note that while regularly scheduled air conditioner and furnace maintenance makes your HVAC unit more reliable, it is not guaranteed to prevent equipment failure indefinitely. Wear and tear gets the best of every unit eventually, and if yours is getting old and has had a long history of repairs, then it might be the right time for a replacement. Your trusted heating and air conditioning repair experts should be able to help you weigh the options of furnace or air conditioner repair vs. replacement in order to help you make the best choice.
Why Hire Our Professionals for Your Air Conditioner Repair and Furnace Repair Needs?
We do it right, the first time.
We give affordable pricing without compromising the quality of our work.
We have friendly and accommodating technicians who will treat your home with respect and will not disturb your household while quickly getting the job done.
We offer emergency air conditioner and furnace repair when needed – evenings, weekends, or over the holidays!
Contact Us for Air Conditioner and Furnace Repair
If you need air conditioner or furnace repair because your system has quit running all together or is not running at peak efficiency, contact us online or by phone to schedule an appointment with one of the most reliable HVAC contractors in the Troy area, and we will have your unit up and running in no time!
MISSION STATEMENT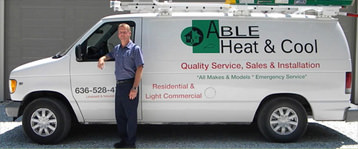 ABLE Heat & Cool, LLC will provide quality service and cost-effective solutions. Being family owned and operated, we understand our customers are just like us… when we call for services, we expect prompt, professional, & reliable service at a fair price. People that need HVAC services can depend on ABLE providing over 30 years of experience in the HVAC repair and service industry to troubleshoot, diagnose, and fix it right the first time!
SERVICE * EXPERIENCE * VALUE
---
Repair, Service, & Maintenance


on ALL BRANDS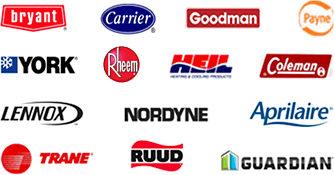 ---