Expert Furnace Repair Service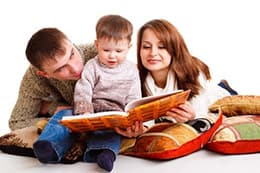 Proper HVAC maintenance is necessary to keep the HVAC equipment tuned and running efficient so your family or employees will be comfortable year round and will also helps cut energy costs to save you money. In the heat of summer, the air conditioner is everyone's best friend and when the weather begins to turn cool in the fall and the cold of winter is about to hit, warm and cozy is the ticket. Unfortunately, even with proper maintenance, as the heating and cooling equipment age and the demands of constant use, sometimes there are unexpected and unwelcomed failures.
Our goal is to help you get the most out of your existing equipment before furnace replacement is inevitable. If you find yourself needing furnace repair services as the cold weather sets in, contact the HVAC contractors at ABLE Heat & Cool right away!
Signs You May Need Furnace Repair Service:
There are a handful of things to look out for that will give you an idea about the status of your furnace.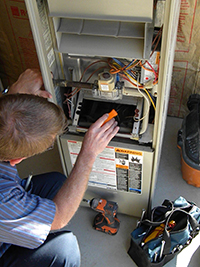 For example:
The air temperature in the living or working space is not consistent. If you are too cool sometimes and too warm at other times often indicates a problem that a furnace repair service technician can address and offer cost effective options.
Listen to the furnace when it starts up, when it is operating, and when it shuts down. Unusual noises can be warning signs of impending mechanical failure and the need for furnace repair services.
Look at the flame in a gas furnace. It should be blue if the equipment is operating efficiently.
Age alone can be a great indicator. Most modern furnace units serve a family or business well for 12 to 15 years. If your unit is approaching this milestone and the heating equipment is in need of more and more service, it may be time to consider  Furnace replacement. A new, more efficient unit may be the best answer.
Make notes if necessary about any concern you may have about the operation of your heating equipment so when you talk with one of our furnace repair service specialist from Troy, Missouri, they will be able to better assist you.
Scheduling a Furnace Repair Service Appointment
If you have noticed one or more of these issues, it is probably time to contact a local furnace repair service professional to schedule a heating service check. For those in Troy and the surrounding area, including Foley, Foristell, Hawk Point, Lake St. Louis, Moscow Mills, O'Fallon, Silex, Warrenton, Wentzville, Winfield, and Wright City, our experienced technicians from ABLE Heat & Cool will diagnose the problem and provide the most cost-effective solution to make your system operate as designed. Call for more information or to schedule an appointment at 636-528-4794.
What To Expect With Our Furnace Repair Service in Troy
During your furnace repair appointment we will perform only necessary repairs, get the job done correctly, and offer tips for what you can do to maintain the heating system properly. Again, our goal is to help you get the most out of your existing equipment before furnace replacement is inevitable.
Contact Us for Cost Effective Furnace Repair Service
Heating a home or business efficiently means getting warm air from the furnace to the open room with as little heat loss as possible. If you do not feel warm air from a vent, there can be a number of reasons causing this issue and should be addressed as soon as possible. Our furnace repair service professionals at ABLE know exactly what check and correct to get the warmest air from your furnace to restore the comfort of your family or employees. In Troy, Missouri, contact our HVAC contractors today to schedule a service appointment or to learn more call 636-528-4794.
MISSION STATEMENT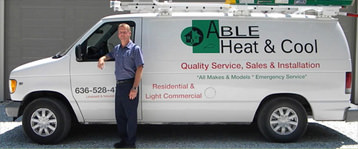 ABLE Heat & Cool, LLC will provide quality service and cost-effective solutions. Being family owned and operated, we understand our customers are just like us… when we call for services, we expect prompt, professional, & reliable service at a fair price. People that need HVAC services can depend on ABLE providing over 30 years of experience in the HVAC repair and service industry to troubleshoot, diagnose, and fix it right the first time!
SERVICE * EXPERIENCE * VALUE
---
Repair, Service, & Maintenance


on ALL BRANDS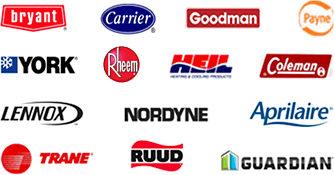 ---