The Best Heat Pump Repair Services in Troy, MO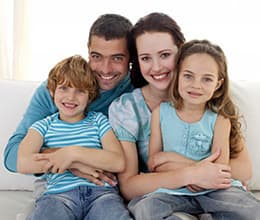 Installing an air-source heat pump can be an economical option for every homeowner that wants to stay comfortable and save money throughout the year. Because of its higher efficiency and multipurpose abilities, the popularity of heat pumps has risen in recent years. Aside from installation of a new heat pump, regular scheduled preventive maintenance from a heating and cooling company will help to prolong the life of your system and ensure peak efficiency.
We offer experienced, trustworthy, yet affordable service for heat pump repair at the first sign of trouble.  Proper heat pump repair and maintenance will help to maximize equipment effectiveness as well as maintain energy savings.
To learn more, call us at 636-528-4794. As one of the leading HVAC contractors in Troy, Missouri, we are ready to help with any of your heat pump repair or heat pump replacement needs.
In case of system or component failure, ABLE Heat & Cool will provide solutions and the most cost-effective heat pump repair or heat pump replacement for your home or office.  If you need flexible payment options, check our Financing Options page.  We have partnered with FTL Financing to offer HVAC financing made easy and convenient for you with a simple application process, fast credit decisions, and reasonable interest rates.
In order to produce heat, a furnace converts fossil fuel or electricity into energy. On the other hand, a heat pump simply collects heat that already exists from the outdoors and pumps it back to your home. Since a heat pump moves heat rather than generate it, this is a more affordable alternative when compared to furnaces and air conditioners. Proper heat pump repair and maintenance from an experienced HVAC professional, will keep the air (and the benefits) flowing.
The Many Benefits of an Air Source Heat Pump
A heat pump is an integral part of your heating and cooling system. Do not be misled by its name, though. You might think that this HVAC equipment can only be used to produce heat over the winter months. The truth is, the job of a heat pump is to pump heat into your home during the winter and pumps heat out of your home in summer. Thus, it functions like an air conditioner during the hot months, and then acts like a furnace during the colder months. This versatility makes a heat pump very economical for homes and businesses throughout the Lincoln County area.
An air source heat pump is efficient and offers energy savings year-round. We recommend a high efficiency gas furnace or electric furnace to complement an installed heat pump in order to enjoy comfort and savings throughout the year because in the winter, when outdoor temperatures frequently drop below 35 F, a heat pump cannot maintain or satisfy the thermostat's set-point of 68-70 F without a little help and it's usually necessary to have a safe, supplemental heating source.  
Here are a just some of the benefits you get from installing a heat pump: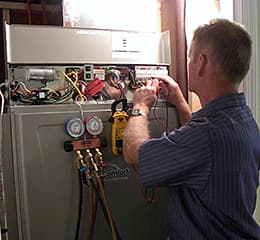 Energy-Efficiency: Among all of the types of HVAC equipment, a heat pump is the most cost-effective. It uses less energy compared to an air conditioner or a furnace, giving you more savings in the long run. You can leave your heat pump on when you go out and not worry about it greatly increasing your monthly utility bill.
Popularity: The popularity of Heat Pumps has risen dramatically over recent years. Not only for their higher energy efficiency ratings, but the practical, convenient, and environmentally friendly benefits they bring.
Environmentally-Friendly: Since a heat pump does not burn anything and only uses energy required to run the compressor and there are less carbon emissions compared to older furnaces and air conditioners.
Improved Air Quality: Heat pumps are clean, use air, and don't produce smoke or add fumes to the air as they circulate the air in your home.  They are an excellent choice for people who suffer from asthma and allergies.
Control: We all have our own preferences when it comes to room temperature. What you consider "cool" can be considered "hot" by others. Having a heat pump installed with a programmable thermostat or a timer, gives you complete control when you want it.
Convenience: A heat pump allows you to make changes in the temperature of a room at the push of a button.  They offer a fast response to warm up or cool down a room within a few minutes and will maintain that temperature for as long as you require it to.
Contact Us for Heat Pump Repair and Replacement Services in Troy, MO
Because of the many benefits you get from installing a heat pump in your home, it is important to take good care of it. ABLE Heat & Cool is the leading HVAC contractor in Troy, MO and throughout the Lincoln County area to trust for your heat pump repair, maintenance, or install!
Call us at 636-528-4794 for quick and efficient heat pump repair or services in your home or office.
If it's time to replace a failed heat pump, you need heat pump repair, or you're looking to upgrade and install an energy efficient heat pump but need some Financing Options, we can help with that and make the whole process of HVAC financing easy and convenient for you with a simple application process, fast credit decisions, flexible payment options, and reasonable interest rates.
MISSION STATEMENT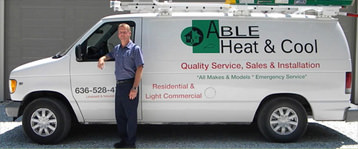 ABLE Heat & Cool, LLC will provide quality service and cost-effective solutions. Being family owned and operated, we understand our customers are just like us… when we call for services, we expect prompt, professional, & reliable service at a fair price. People that need HVAC services can depend on ABLE providing over 30 years of experience in the HVAC repair and service industry to troubleshoot, diagnose, and fix it right the first time!
SERVICE * EXPERIENCE * VALUE
---
Repair, Service, & Maintenance


on ALL BRANDS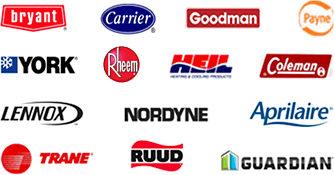 ---