HVAC Financing in Troy, MO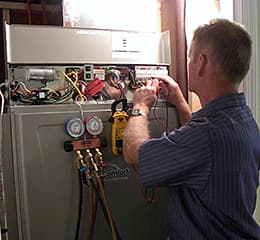 There is nothing worse than being stuck inside a house with no air conditioning in the middle of summer or having to suffer through the cold winter months without sufficient heating in the house or office. Unfortunately, your HVAC system usually fails unexpectedly and at the worst possible time.  Comfort systems like an air conditioner, furnace, or heat pump can be one of the most expensive appliance purchased.  It can be quite costly, and is something that one has to financially prepare for ahead of time. So what if your current HVAC system breaks down and needs to be repaired or replaced? What if there's not an emergency repair or replacement savings account to cover HVAC expenses?
The good news is that ABLE Heat & Cool provides HVAC financing options if you need a replacement, an upgrade, or a repair on your existing system. Call us at 636-528-4794 to learn more about how we can get one of the area's most experienced, professional HVAC contractor to your house quickly with HVAC financing!
How HVAC Financing Works
ABLE Heat & Cool has partnered with FTL Finance in order to provide HVAC financing services. Simply click here to complete our Online Application
Once FTL Finance approves your credit application, we can then schedule the HVAC maintenance, installation, or repair work. When the work is done, FTL Finance will pay the amount due to us and you will be enjoying the benefits of your furnace and air conditioner providing the comfort you want.
How to Take Advantage of Our HVAC Financing
HVAC financing is quick and easy with these simple steps: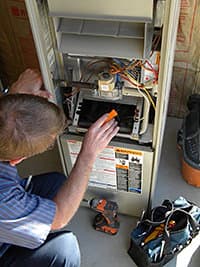 Step 1: Complete & Sign the FTL HVAC Finance paper application and submit it to us in person or click here to complete our Online Application
Step 2: Once your credit application has been approved, we will give you the Finance Lease Contract and the Lease Detail page so that you can review and sign it.
Step 3: Once the contract has been signed, we will commence the work.
Step 4: We complete the proposed work detailed in the contract.
Step 5: FTL will then bill you in affordable installments for the services performed.
Minimum Requirement for HVAC Financing Eligibility
Must show proof you are the property owner
Must show proof of active employment or retirement income
Must not be in credit counseling
Must not have filed for bankruptcy in the last 24 months
Must have HVAC equipment that has model and serial numbers
Learn More about Our HVAC Financing Option!
Ensuring comfort in your home or office is something that should never be set aside just because you do not have the budget for it right now. ABLE Heat & Cool and FTL Financing make the whole process of HVAC financing easy and convenient for you. With the simple application process, fast credit decisions, flexible payment options, and reasonable interest rates, you will be able to relax in a comfortable house in no time regardless of the weather!  Get started now, simply click here to complete our Online Application
Now you do not have to worry about where to get a huge amount of cash to pay upfront in the event of an unexpected HVAC expense. Call us now at 636-528-4794 and we will be happy to walk you through the best financing options with the area's best HVAC contractor.
MISSION STATEMENT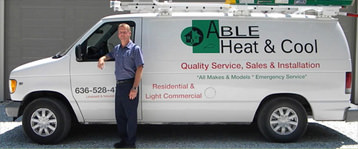 ABLE Heat & Cool, LLC will provide quality service and cost-effective solutions. Being family owned and operated, we understand our customers are just like us… when we call for services, we expect prompt, professional, & reliable service at a fair price. People that need HVAC services can depend on ABLE providing over 30 years of experience in the HVAC repair and service industry to troubleshoot, diagnose, and fix it right the first time!
SERVICE * EXPERIENCE * VALUE
---
Repair, Service, & Maintenance


on ALL BRANDS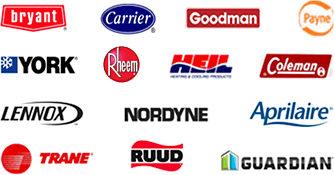 ---