HVAC Maintenance Services in Troy, MO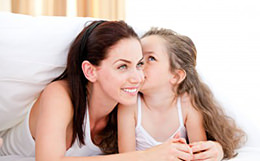 Without a working heating and cooling system, you can find your house hot and stuffy during summer and uncomfortably cold during winter, making your home nearly uninhabitable and even hazardous for your family. Unfortunately, the erratic and unpredictable changes in temperature in the Troy, MO area, can play havoc with your HVAC system. That is why having an efficient and properly maintained HVAC system is important; after all, it's the critical component for staying comfortable inside, regardless how much the temperature fluctuates outside.
In order to maintain the efficiency and reliability of your HVAC system, regular HVAC maintenance is crucial. At ABLE Heat & Cool, we offer HVAC maintenance plans and maintenance services for all makes and models of air conditioners, furnaces, heat pumps, and other HVAC equipment.  Call us today at 636-528-4794 to learn more about our options and what makes us one of the best HVAC contractors in Troy, Missouri.
Benefits of Our HVAC Maintenance Plans
It can be frustrating and inconvenient when your air conditioner or heater breaks down during the time you need it the most. However, this scenario can often be prevented from happening simply by having a regular HVAC maintenance plan in place. Here are just some of the benefits that you get out of our HVAC maintenance plans:
Keeps your HVAC system working at a peak performance
Extends the life of your HVAC equipment
Makes the system easy and safe to operate
Detects early warning signs when something is wrong with your system, thereby preventing costly emergency repairs
Reduces energy and utility costs
Qualifies you to receive priority service ahead of other customers
What You Can Expect from Our HVAC Maintenance Plans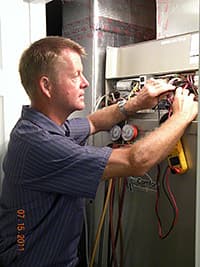 Yes, there are DIY measures you can take and we encourage our customers to perform some basic, routine air conditioner and furnace maintenance themselves. However, it is important to note, that there are additional HVAC maintenance steps that are more technical and complex; so for safety, efficient peak performance, and peace of mind, detailed heating and cooling maintenance should be performed by a qualified HVAC professional.
That is why our HVAC maintenance plans are a wise investment for your HVAC system and your year round comfort. Our service plans include a maintenance appointment during the spring season to prepare your air conditioning system for summer and also a maintenance appointment during fall season to prepare your heating system for the coming winter months. We perform more than general maintenance through our maintenance plan, we do things like check, clean, and adjust all controls of your HVAC system; check all electrical components, circuits, wiring, and connections;  Lubricate all moving parts, change or wash the air filters, and check pressure/temperatures of your air conditioner, furnace, or heat pump just to name a few. We offer an affordable, comprehensive HVAC maintenance plans to help prolong the life of your HVAC system and increase its operating efficiency.
Learn More About Our HVAC Maintenance Services!
Having more than 30 years of experience in the HVAC industry, ABLE Heat & Cool promises to provide you with great service at an affordable price. The best investment you can make for your heating and cooling equipment is preventive HVAC maintenance. Please call us at 636-528-4794 to schedule an appointment with us and to learn more about what makes us the professional HVAC contractor of choice for customers throughout the Lincoln County area.
MISSION STATEMENT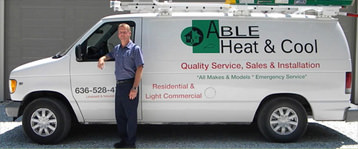 ABLE Heat & Cool, LLC will provide quality service and cost-effective solutions. Being family owned and operated, we understand our customers are just like us… when we call for services, we expect prompt, professional, & reliable service at a fair price. People that need HVAC services can depend on ABLE providing over 30 years of experience in the HVAC repair and service industry to troubleshoot, diagnose, and fix it right the first time!
SERVICE * EXPERIENCE * VALUE
---
Repair, Service, & Maintenance


on ALL BRANDS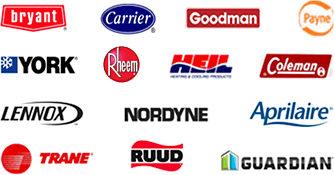 ---