Indoor Air Quality – What You Should Know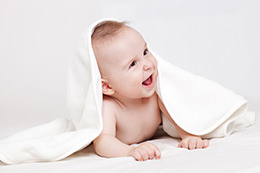 Airborne contaminants from the outside can flow inside your home or office as your heating or cooling system draws in air from the outside. Proper ventilation as well as an improved indoor air quality can have a significant impact on your family's health and overall quality of life. Fortunately, at ABLE Heat & Cool, our expert team as one of the areas trusted HVAC contractors understands the importance of good indoor air quality, and we can provide options to install, maintain, and repair HVAC systems that will help you maintain a healthy air quality. Call us today at 636-528-4794 to learn more!
Ways to Improve and Maintain High Indoor Air Quality
Here are some types of systems and equipment that are available to improve indoor air quality:
Air Filters: High quality air filters remove allergens such as mold spores and animal dander, making the air cleaner and easier to breathe.
Whole House Air Purifiers: Reduce and even prevent asthma and other respiratory problems while improving the air quality of your entire house by adding one piece of equipment! A whole house air purifier can be installed in your HVAC system to improve indoor air quality throughout your home.
Humidifiers: Cold temperatures in the winter lead to low humidity, so having a humidifier installed in your house can add moisture back into the air. A humidifier helps relieve sinusitis and nose bleeds, alleviates dry skin and chapped lips, and many other conditions caused by cold winter weather.
Carbon Monoxide Alarms: Carbon Monoxide (CO) is an odorless and colorless gas that can come from various sources including stoves, attached garages, fireplaces, and furnaces. Extended exposure to CO can be deadly. Carbon monoxide alarms are easily installed to monitor CO levels and will notify you when that level becomes dangerously high.
UV Lamps: HVAC systems often produce increased dampness that can provide the right environment for mold to grow. If this happens, mold spores can be delivered throughout the home while the system is in operation; UV lamps are installed internally into the system, killing mold quickly and effectively and will help keep the coil cleaner.
At ABLE Heat & Cool, we provide cost-effective solutions to help you get rid of indoor air pollutants and improve the air quality of your home or business. By installing new indoor air quality equipment, you will have fresh and clean air all throughout your home.
Need FINANCIAL ASSISTANCE to improve your Indoor Air Quality?
ABLE Heat & Cool and FTL Financing make the whole process of HVAC financing easy and convenient for you with simple application process, fast credit decisions, flexible payment options, and reasonable interest rates.
Benefits of Improved Indoor Air Quality
Here are some of the reasons why improving indoor air quality is important: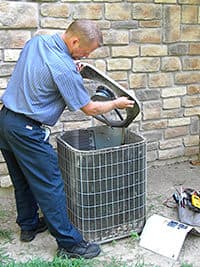 Breathe easier: When you take in cleaner air, you breathe much easier. Having great air quality improves the overall health of everyone in your home or office with less chances of aggravating asthma and allergic reactions.
Sleep better: Breathing in air pollutants can cause interruptions and restlessness in your sleeping patterns, causing you to wake up feeling lethargic and cranky. Breathing in clean air on the other hand, aids in a restful sleep.
Remove allergens: Dust, pollen, mold spores, and animal dander are several forms of allergens that can be harmful to a person prone to allergies. Air-filtering and purifying devices can reduce the occurrence of these allergens in your home or office.
Remove odors: Unfortunately, there are plenty of odors that can be found in your home or business.  Having an air indoor air quality system added to your HVAC system will aid in the prevention of foul smells such as smoke, pet odors, mold, and musty smells.
Reduce energy use: Your heating and cooling systems work more efficiently with improved indoor air quality, thereby reducing your energy usage and utility costs.
Learn More About ABLE Heat & Cool's Indoor Air Quality Services
Unfortunately, some HVAC systems can be a breeding ground for contaminants not only spreading pollutants throughout your home or office, but allowing things like mold to grow. That is why we recommend an inspection of your home's indoor air quality as well as your HVAC system to determine contaminant levels and the extent of the cleanup that needs to be done. By checking your indoor air quality, we can recommend solutions and systems for controlling allergens and microbial growth throughout your HVAC system. And as a result, your home will be a healthier environment to live in.
In Troy and the Lincoln County area, contact us today at 636-528-4794 to learn more about how one of the area's best HVAC contractors can recommend solutions to improve your indoor air quality!
MISSION STATEMENT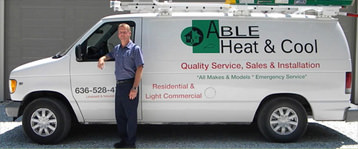 ABLE Heat & Cool, LLC will provide quality service and cost-effective solutions. Being family owned and operated, we understand our customers are just like us… when we call for services, we expect prompt, professional, & reliable service at a fair price. People that need HVAC services can depend on ABLE providing over 30 years of experience in the HVAC repair and service industry to troubleshoot, diagnose, and fix it right the first time!
SERVICE * EXPERIENCE * VALUE
---
Repair, Service, & Maintenance


on ALL BRANDS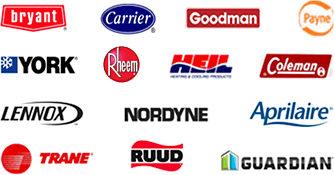 ---