The Best Company for Lake St. Louis HVAC Repair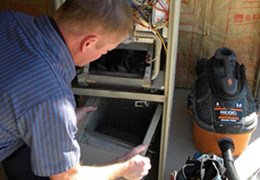 As a full-service heating and cooling company, ABLE Heat & Cool offers a wide range of high-quality HVAC services. From the installation, repair, replacement, and maintenance of equipment to providing indoor air quality products, we do it all.   We have over 30 years of experience in the HVAC industry which make us first choice in Lake St. Louis. With ABLE, you don't have to sacrifice quality to get a better price. Our goal has always been quality customer service for a fair price and we measure success by keeping your HVAC equipment operating at peak performance to ensure consistent comfort in your home all year long, season to season.
Let one of the area's best HVAC contractors take care of all your heating and cooling needs! To inquire about any of our services or to book an appointment, please call us at 636-528-4794!
Why Call Us for Your Lake St. Louis HVAC Repair or Replacement Services?
Looking for the right company to provide quality heating and cooling service and HVAC repair in Lake St. Louis? Look no further than ABLE Heat & Cool. Here are just some of the reasons why we are the right people for the job:
Quality service - We make sure to resolve your issues as quickly as possible, and to get it right the first time.
Affordable pricing - We make sure to provide you cost-effective solutions that do not compromise quality workmanship be it repair or replacement. If replacement is the best option, we will work with you to get the most-energy efficient HVAC system that fits your budget and we also provide HVAC financing options.
Friendly and experienced staff - Our professional technicians continuously receive ongoing training about the latest technological trends within the HVAC industry to ensure they deliver the best service possible. Additionally, our service staff is knowledgeable and friendly. They are the reasons why ABLE Heat & Cool has become a trusted name in Lake St. Louis HVAC Repair.
HVAC Maintenance Service Plans
In additional to Lake St. Louis HVAC repair services, we have developed a preventative maintenance plan to improve and maximize the efficiency of your HVAC system. Our maintenance plans will help you to: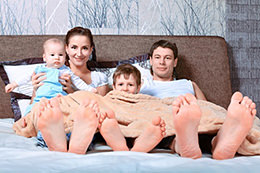 Lower your utility bills.
Reduce the possibility of an equipment breakdown and additional HVAC repair bills.
Lengthen the life of your heating and cooling system.
Better prepare your home for changes in the season.
It is highly recommended that HVAC maintenance be performed before the start of summer and winter, so the heating and cooling equipment will be operating as designed when extreme temperatures of the seasons challenge the system.  HVAC equipment is normally tucked away inside out of sight and part of it is set outside, this means dirty filters and coils can go unnoticed along with unusual sounds in your air conditioner, furnace, or heat pump. These smaller issues can become bigger problems in the long run that could result in costlier HVAC repair bills. This can be prevented with an annual maintenance plan from ABLE. We always strive to provide the best Lake St. Louis HVAC repair and maintenance plans in the area!
Learn More about Our Reliable Lake St. Louis HVAC Repair Company
If you are in Lake St. Louis and need emergency HVAC Repair, want to book a regular appointment, or want to inquire about our annual maintenance plan, call us at 636-528-4794 and one of the most reliable HVAC contractors in the area will be happy to take care of you!
MISSION STATEMENT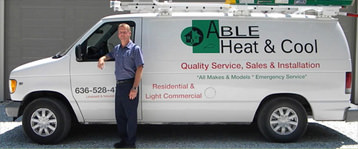 ABLE Heat & Cool, LLC will provide quality service and cost-effective solutions. Being family owned and operated, we understand our customers are just like us… when we call for services, we expect prompt, professional, & reliable service at a fair price. People that need HVAC services can depend on ABLE providing over 30 years of experience in the HVAC repair and service industry to troubleshoot, diagnose, and fix it right the first time!
SERVICE * EXPERIENCE * VALUE
---
Repair, Service, & Maintenance


on ALL BRANDS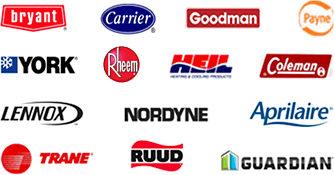 ---