The Best Company for Moscow Mills HVAC Repair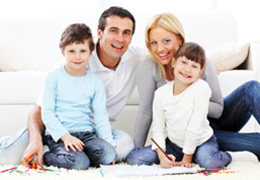 As a full-service heating and cooling company, ABLE Heat & Cool has the capacity to provide you with a full-range of Moscow Mills HVAC repair services. Whether it is installation, repair, replacement, or maintenance, we can help you improve the performance of your current heating, cooling, and air-cleaning equipment you have at home. Simply call us at 636-528-4794 to book a service call with one of the most skilled HVAC contractors in the area or to learn more about our complete range of services.
Complete Heating & Cooling Service & HVAC Repair in Moscow Mills
Not all heating and cooling companies are created equal. If you are looking for the most reliable Moscow Mills HVAC repair service provider, ABLE Heat & Cool fits the bill. Here are some of the reasons why you should hire us for all of your heating and cooling needs: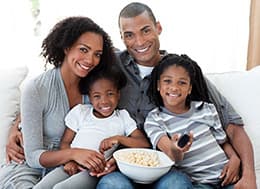 Experience - We are not known as the best Moscow Mills HVAC repair company for nothing. Having more than 30 years of experience under our belts, our expertise in handling HVAC equipment issues means we get the job done right!
Availability – It is Murphy's Law at work: emergencies happen when you least expect it, and equipment breaks down just when you need it the most. We offer emergency HVAC repair during the evenings, weekends, and holidays!
Pricing - We strive to keep your costs down as much as we can. We will let you know when HVAC repair will work, and when you need to consider a full replacement. We can also advise you on what equipment is the right size for your application and the most cost effective for your needs.
Personal touch - As a family-operated business, we maintain a friendly but professional attitude during the entire HVAC repair or service call, always treating your home with respect. You can even ask us for advice on how to do basic air conditioner maintenance and furnace maintenance on your own to keep your system running smoothly!
Contact Us for the Most Reliable Moscow Mills HVAC Repair
Give us a call at 636-528-4794 today if you are in need of HVAC repair in Moscow Mills, and we will be glad to help, as well as teach you how you can optimize your air conditioner, furnace, or heating pump to keep it operating at full efficiency. Our HVAC contractors are more than equipped to help you: they have the skills, tools, and the know-how to get the job done right the first time!
MISSION STATEMENT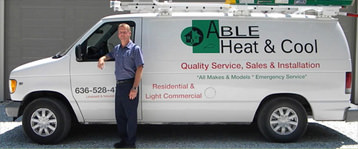 ABLE Heat & Cool, LLC will provide quality service and cost-effective solutions. Being family owned and operated, we understand our customers are just like us… when we call for services, we expect prompt, professional, & reliable service at a fair price. People that need HVAC services can depend on ABLE providing over 30 years of experience in the HVAC repair and service industry to troubleshoot, diagnose, and fix it right the first time!
SERVICE * EXPERIENCE * VALUE
---
Repair, Service, & Maintenance


on ALL BRANDS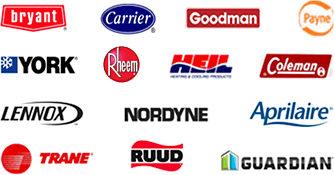 ---