The Best Company for Silex HVAC Repair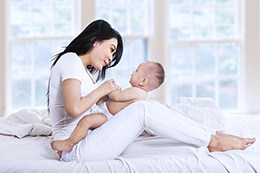 Purchasing a new heating and cooling system for your home can easily cost you thousands of dollars – as such, this is definitely one of the more costly investments you will have to make as a homeowner. In order to take good care of your investment, it is important to look for the best heating and cooling company you can trust for Silex HVAC repair and service.
At ABLE Heat & Cool, we are experts when it comes to heating and cooling service in Silex, MO.
Contact us today at 636-528-4794 or online to schedule an appointment with our skilled HVAC contractors or to learn more about our complete HVAC services.
A Trusted Name When It Comes to HVAC Repair in Silex
With over 30 years of experience in the HVAC service industry, we have been providing quality heating and cooling services for customers throughout the local area and we have become a trusted source for HVAC service and repair. Here are some of the reasons that set us apart as your go-to HVAC repair company in Silex: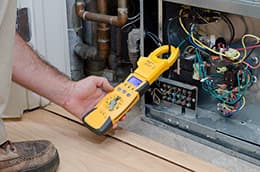 Emergency Service: Our commitment has always been to help our clients live in a safe, clean, and comfortable environment all year round. Because a heating or a cooling issue can inconveniently happen at any moment, we offer after-hours emergency service calls in the evening, weekends, or on holidays. We also offer flexible HVAC financing options for those unexpected repair or costly replacement surprises.
Experienced Technicians: A contractor may have the tools needed to service HVAC equipment, but does he have the experience? With our 30+ years of HVAC repair and service experience, we promise to provide reliable, accurate, and trust worthy service to the Silex area!
Affordable HVAC Maintenance: Without proper maintenance and repair, your HVAC system may experience frequent or premature component failures.  However, our regular HVAC maintenance plans check your system and tune it up to prepare for the coming winter or summer months.  This often results in lower utility bills since the equipment is operating at peak performance and may reduce the potential of HVAC breakdowns and repairs.
Repairs & Service for All Makes & Models: We repair and service all kinds of air conditioners, furnaces, and heating pumps for ALL brands.
Complete HVAC Services in Silex, MO
We offer a comprehensive range of HVAC services in Silex ranging from installation and repair to replacement and maintenance. We can also help you improve the indoor air quality of your home. Here are some of the types of HVAC equipment we can install and service:
Air Conditioners
Furnaces
Electric Air Handlers
Heat Pumps
Humidifiers
Indoor Air Quality Purification Systems
Contact Us for Reliable Silex HVAC Repair
To schedule a Silex HVAC service call or to learn more about our HVAC services and what makes us the best local HVAC contractors, call us at 636-528-4794 or contact us online.
MISSION STATEMENT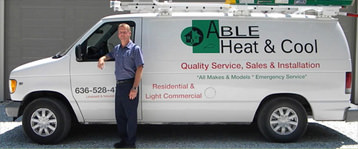 ABLE Heat & Cool, LLC will provide quality service and cost-effective solutions. Being family owned and operated, we understand our customers are just like us… when we call for services, we expect prompt, professional, & reliable service at a fair price. People that need HVAC services can depend on ABLE providing over 30 years of experience in the HVAC repair and service industry to troubleshoot, diagnose, and fix it right the first time!
SERVICE * EXPERIENCE * VALUE
---
Repair, Service, & Maintenance


on ALL BRANDS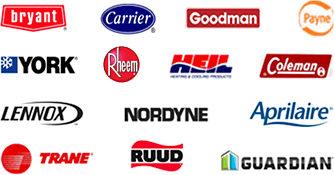 ---