The Best Company for Troy HVAC Repair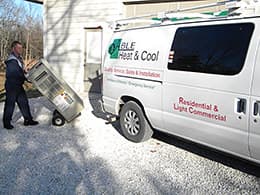 Is your air conditioner humming or making strange noises when you turn it on? Or perhaps the pilot light on your old furnace will not stay lit? Whatever the situation is with your air conditioner, furnace, or heat pump, it pays to know a good and reliable Troy HVAC repair company that you can count on whenever there is trouble with the heating or cooling system in your home. At ABLE Heat & Cool, we offer best HVAC repair and service in Troy, MO to meet all of your needs. Contact us today at 636-528-4794 to speak with one of the areas most experienced and reliable HVAC contractors to get your air conditioner, furnace, or heat pump working as designed.
Why Hire Us as Your HVAC Repair Company in Troy, MO
There are several HVAC repair companies in Troy to choose from and that can be somewhat overwhelming when needing service or repair. It's important to make sure to do your homework and choose an established company that has built a reputation based years of experience in the industry and the number of satisfied customers in Troy. For a company you can trust, hire ABLE Heat & Cool and all of your Troy HVAC repair or service issues will be addressed with just one service call.
As a full-service Troy HVAC repair company, we have the resources, tools, knowledge, and people to guide you through every step of the way - from the equipment selection and installation, down to the repairs and preventive maintenance. Here are some compelling reasons why we are more than ABLE to do the job for you: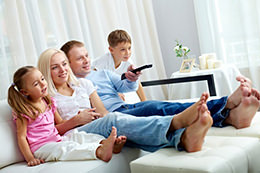 High-quality workmanship: When you hire us, you will have peace of mind knowing that you have hired the best company to do the job. With over 30 years of experience in the HVAC industry, our HVAC repair company has a growing roster of satisfied clients who will let you know that we are simply the best at what we do.
Cost-effective solutions: We offer competitive prices to give you value for your money. We also offer HVAC financing to help you manage your budget for larger HVAC expenses. Lastly, our HVAC maintenance plans will save you money in the long run by lowering your heating and cooling bills as well as prolonging the life of your equipment.
Excellent customer service: Our service technicians and customer service staff are prompt and responsive, as well as friendly and accommodating. All of our technicians are qualified to fix ANY brand of heating and cooling equipment. We will get the job done quickly and efficiently while causing minimal disruption to your household's daily routine.
Emergency service and repair: More often than not, emergencies happen outside of normal business hours. However, with ABLE Heat & Cool, you do not have to wait until the next day for emergency HVAC repair. We are available evenings, during the weekend, and on holidays for unexpected equipment failure.
Contact Us for Troy HVAC Repair & Services
If you are ready to put your HVAC needs in ABLE hands, all you have to do is call us at 636-528-4794 or contact us online, and one of Troy's most trusted HVAC contractors will be ready to provide the quality HVAC repairs and service you need.
MISSION STATEMENT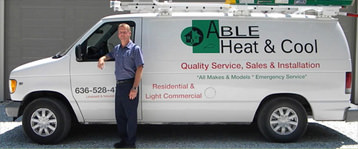 ABLE Heat & Cool, LLC will provide quality service and cost-effective solutions. Being family owned and operated, we understand our customers are just like us… when we call for services, we expect prompt, professional, & reliable service at a fair price. People that need HVAC services can depend on ABLE providing over 30 years of experience in the HVAC repair and service industry to troubleshoot, diagnose, and fix it right the first time!
SERVICE * EXPERIENCE * VALUE
---
Repair, Service, & Maintenance


on ALL BRANDS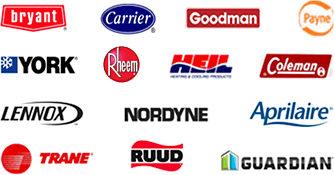 ---