Expert Air Conditioning Repair Service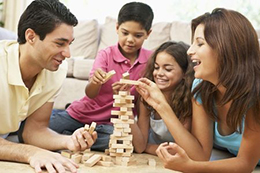 While regular HVAC maintenance can usually keep your air conditioner running smoothly, breakdowns and unexpected problems can occur. We understand it is these times when you need an air conditioning repair service specialist you can trust. Our air conditioning repair technicians are qualified and certified to diagnose problems and perform only necessary repairs as quickly as possible. No overselling and No sales pressure...EVER! We will offer the most cost effective solutions and options available to save you money and get you and your family relaxing comfortably once again.
ABLE Heat & Cool, LLC is one of the most trusted HVAC contractors in Troy, Missouri.
Call 636-528-4794 and get your air conditioner working again!
Signs You Need Air Conditioning Repair Service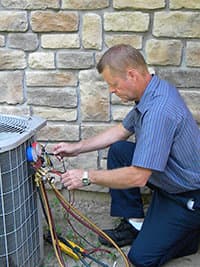 The most obvious sign that you need air conditioning repair service is if your A/C system stops working completely, there are some simple steps and indicators that can help you determine if your A/C is signaling that you need air conditioning repair service.
Ask family members and friends if they think the AC unit is keeping the living space cool enough. If you fins most agree that the space is not as comfortable as it should be, it may be time to call and schedule an air conditioning repair service.
Is the air temperature warmer at times than at others?  Inconsistent temperatures may mean that air conditioning repair services are needed.
Are the costs of operating your current A/C unit going up gradually, from year to year or have you seen a sudden spike in bills? Air conditioning repair service may be able to help your unit run more efficiently.
Is the air conditioner unit making strange or new noises when it starts, when it is running, or when it shuts off after a cooling cycle. Listen closely to your air conditioner at these times so you can explain the sounds in detail to the professional.
These are just a few of the signs that your cooling equipment is in need of some expert attention. For more information or to diagnose problems with your A/C unit, contact a trusted, professional air conditioning repair company.
Local Air Conditioning Repair Service Expertise in Troy, MO
If you are in need of air conditioning repair service, it is important to take the time to find a professional with an established  experience history  in the A/C industry.  In the Troy, Missouri area, which includes Foley, Foristell, Hawk Point, Lake St. Louis, Moscow Mills, O'Fallon, Silex, Troy, Warrenton, Wentzville, Winfield, and Wright City, ABLE Heat & Cool offers expert air conditioning repair service.
Contact us at HVAC contractors online or by phone 636-528-4794 to tell us more about the problems you are experiencing and if our air conditioning repair services can help. When contacting us, be prepared to explain how the equipment is working (or not working), so the technician can determine what may be needed. If you decide a repair technician should be dispatched, he will thoroughly inspect the cooling equipment to find out what's causing the problem and will offer the most cost effective options for your air conditioning repair.
MISSION STATEMENT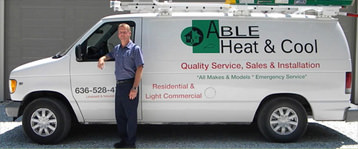 ABLE Heat & Cool, LLC will provide quality service and cost-effective solutions. Being family owned and operated, we understand our customers are just like us… when we call for services, we expect prompt, professional, & reliable service at a fair price. People that need HVAC services can depend on ABLE providing over 30 years of experience in the HVAC repair and service industry to troubleshoot, diagnose, and fix it right the first time!
SERVICE * EXPERIENCE * VALUE
---
Repair, Service, & Maintenance


on ALL BRANDS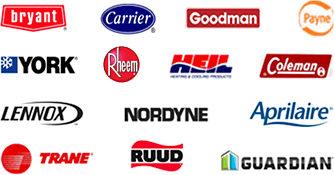 ---