The Best Company for Old Monroe HVAC Repair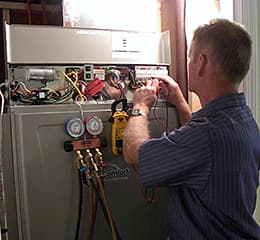 Residents of Old Monroe know that the weather tends to be unpredictable. That is why it is important for your home to have a working heating and air conditioning system so you can be comfortable no matter what the temperature is outside. There is simply no reason for you to melt away during the summer months or to freeze during winter when you can have reliable HVAC repair and service with a simple phone call.
ABLE Heat & Cool is a leading HVAC repair and service company providing the best in heating and cooling services for customers throughout the area. To learn more about our services and what make us one of the leading HVAC contractors, call us online or by phone at 636-528-4794.
Complete HVAC Repair and Service in Old Monroe
We offer a full range of Old Monroe HVAC services including installation, repair, replacement, and maintenance of ALL brands of the following equipment:
Air Conditioners
Furnaces
Electric Air Handlers
Heat Pumps
Humidifiers
Indoor Air Quality Purification Systems
Why Hire Us for Your HVAC Repair and Replacement Needs in Old Monroe
Choosing a trust worthy HVAC contractor in Old Monroe to repair your existing heating and cooling equipment or to install a new HVAC system is very important. If you want your existing equipment maintained, operating as designed for maximum efficiency, or if you need a new cost-effective system properly installed, that can happen by choosing the leading Old Monroe HVAC repair company: ABLE Heat & Cool.
Whether it is for system replacement or repair, customers continually rely on us for their heating and cooling needs. Here are some of the reasons why Old Monroe residents keep coming back to us when it comes to servicing their HVAC needs: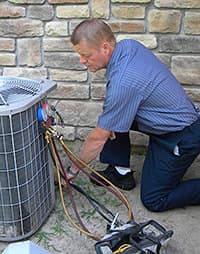 Quality HVAC work: We get the job done right and we work efficiently so your heating and cooling system will be working as soon as possible.  
Affordable pricing: Our services have been designed to be cost-effective without sacrificing quality, providing you room to breathe when it comes to financing your heating and cooling system installation or repair.
Financing options: We understand that not all customers can afford to pay upfront for the installation, repairs, and maintenance of their HVAC equipment. Therefore, we offer HVAC financing options to help you provide your family the comfort they need. 
Expert technicians: Our technicians are up-to-date with the latest in HVAC technology, so you can have peace of mind knowing that expensive piece of HVAC equipment is in very capable hands.
Emergency Service:  Equipment failure happens when least expected and we understand the frustration it brings.  We offer emergency HVAC repair service evenings, weekends, and on holidays!
Contact Us for HVAC Repair & Service in Old Monroe
For the best in Old Monroe HVAC repair and service, contact us online or by phone at 636-528-4794 to book a service appointment or learn more about what makes us one of the most trusted HVAC contractors for many of your neighbors.
MISSION STATEMENT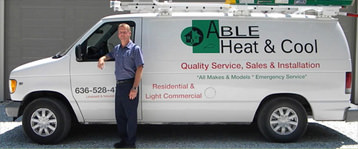 ABLE Heat & Cool, LLC will provide quality service and cost-effective solutions. Being family owned and operated, we understand our customers are just like us… when we call for services, we expect prompt, professional, & reliable service at a fair price. People that need HVAC services can depend on ABLE providing over 30 years of experience in the HVAC repair and service industry to troubleshoot, diagnose, and fix it right the first time!
SERVICE * EXPERIENCE * VALUE
---
Repair, Service, & Maintenance


on ALL BRANDS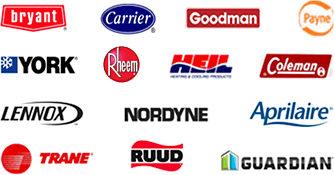 ---