The Best Company for Hawk Point HVAC Repair & Service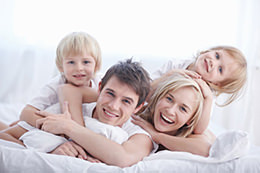 Here at ABLE Heat & Cool, we are committed to one thing – providing great HVAC repairs and service the first time, every time! We are a family-operated business, and we specialize in meeting the HVAC service needs of our residential customers in Hawk Point, Missouri. If you are looking for a Hawk Point HVAC repair or service provider, then you are in the right place! With more than 30 years of experience in the business, we have built our reputation on providing quality service at a very competitive price.
Whether you are in need of repair, replacement, installation, or maintenance, call us now at 636-528-4794 to learn more about what makes us the best local HVAC contractors in the area.
Why Hire Us for the Best in Hawk Point HVAC Repair & Service
What distinguishes us from the other HVAC repair companies in the area is the quality work we provide at a competitive price. We have been in the industry for more than 30 years, and we have the track record and references to back it up! Therefore, we are simply the best option when it comes to your Hawk Point HVAC repair or replacement needs. We also service and maintain all types of HVAC systems in order to protect the investment you have made for your home.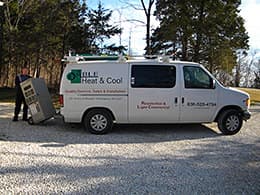 During each service call, we treat your family and your home with the respect you would expect from a locally owned company. We complete your HVAC repairs with efficiency as well as with minimal interruption to your household.
Aside from the quality of the job, you also get honest evaluation and fair pricing. That means we evaluate the current HVAC equipment you have before even beginning a repair, and we will tell you whether repair or replacement is the best and most cost effective option.
We can also help keep your existing HVAC equipment running its best. With our semi-annual preventive HVAC maintenance packages, we will do a thorough check of your air conditioner, furnace, or heat pump to ensure that your system is operating at an optimum efficiency.
Lastly, in order to cement our status as Hawk Point's leading HVAC repair company, we also offer indoor air quality services and products at a low price. We make sure to help you in every way we can – and this includes ensuring you have fresh, clean air to breathe all year round.
Complete HVAC Equipment Repair & Service
As a full-service heating and air conditioning contractor in Hawk Point and the surrounding areas, we can help with all of your HVAC repair or service needs.  Able heat & Cool is here to help you when making the decision on new equipment or maintaining your existing HVAC system to prolong its life. The following are the types of systems that we install, repair, replace, and maintain:
air conditioners
furnaces
electric air handlers
heat pumps
humidifiers
indoor air quality purification units
Learn More About the Best HVAC Repair Company in Hawk Point, Missouri
If you have any questions about the HVAC repair services we offer or to schedule a service call with our HVAC contractors, contact us online or by phone at 636-528-4794.
MISSION STATEMENT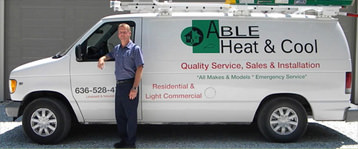 ABLE Heat & Cool, LLC will provide quality service and cost-effective solutions. Being family owned and operated, we understand our customers are just like us… when we call for services, we expect prompt, professional, & reliable service at a fair price. People that need HVAC services can depend on ABLE providing over 30 years of experience in the HVAC repair and service industry to troubleshoot, diagnose, and fix it right the first time!
SERVICE * EXPERIENCE * VALUE
---
Repair, Service, & Maintenance


on ALL BRANDS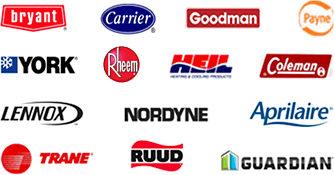 ---