The Best Company for Winfield HVAC Repair & Service
Keeping the temperature of your home comfortable year round is a top priority for most of us. When the air conditioner, furnace, or heat pump fails, it is important to seek out a reliable HVAC repair service company that you can trust when it comes to your heating and cooling systems.  ABLE Heat & Cool is by your side providing cost-effective options and solutions whether it's a simple repair, time to consider new equipment, or scheduling HVAC maintenance, we're the heating and cooling company to choose.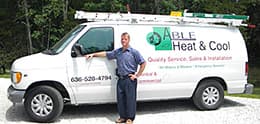 If you are looking for a reliable Winfield HVAC repair company, look no further than ABLE! We strive to be the leader in the heating, ventilation, and cooling industry in the Winfield area, as we aim to build long-term relationships with our clients with every HVAC repair service call we do. To learn more, call us at 636-528-4794 and find out what makes us one of the most trusted HVAC contractors in the area.
Expect Quality Winfield HVAC Service at Every Visit
ABLE Heat & Cool provides a comprehensive range of HVAC services in Winfield, including the following: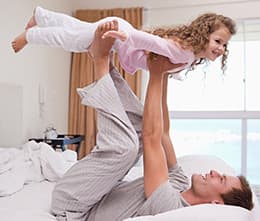 Installation: Choosing from a variety of HVAC equipment can be an overwhelming task. Our experts will help you decide by providing cost-effective options and solutions to ensure comfort to every square inch of your home.
HVAC Repair: When it comes to Winfield HVAC repair, we will locate and repair the issue on the first call whenever possible. Our team is composed of highly trained professionals have the skills and technical know-how to get your air conditioner, furnace, or heat pump repair done efficiently. For Winfield HVAC repair, we are ABLE!
Preventive Maintenance: Your heating and cooling system is just like your car—it needs regular maintenance in order to perform at maximum efficiency. Our HVAC maintenance plans will help keep your HVAC equipment running efficiently, throughout the summer and winter months.
Indoor Air Quality Services: Realizing the air quality in your home may be compromised is the first step for improving the quality of indoor air. Determining the root cause of poor indoor air quality is the next step. Poor Indoor Air Quality can easily be determine by ABLE Heat & Cool's experienced technicians. We can recommend the best cost-effective solution.
Contact Us for Winfield HVAC Repair Services
ABLE Heat & Cool has been in the business of providing Winfield HVAC repair and service with more than 30 years of experience.  With our track record as well as our growing list of satisfied customers, our aim is to provide you with the best Winfield HVAC repair service. We know that money plays a big part in the decision-making process, which is why we offer cost-effective options that are surprisingly affordable, as well as flexible HVAC financing with FTL Finance.
Allow us to help keep your heating and cooling equipment operating as designed so you and your loved ones stay comfortable through each season with our Winfield HVAC repair and service. Call us today at 636-528-4794 to book a service appointment with one of the most experienced HVAC contractors in the area!
MISSION STATEMENT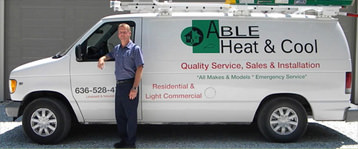 ABLE Heat & Cool, LLC will provide quality service and cost-effective solutions. Being family owned and operated, we understand our customers are just like us… when we call for services, we expect prompt, professional, & reliable service at a fair price. People that need HVAC services can depend on ABLE providing over 30 years of experience in the HVAC repair and service industry to troubleshoot, diagnose, and fix it right the first time!
SERVICE * EXPERIENCE * VALUE
---
Repair, Service, & Maintenance


on ALL BRANDS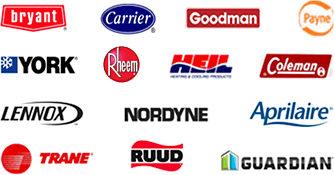 ---